Project Brief
This is a UX review case study.
Torchy's Tacos is a taco restaurant (surprise!) with an online ordering tool.
But the tool was clunky and filled with friction points. I reviewed the tool for
friction points and triggers

broken or non-working UX and UI

any other useful input to improve the tool
The Problem
The earlier version of the online ordering tool was unintuitive and clunky.
My Role
I reviewed all aspects of the tool, concentrating on friction points and UX/UI.
Tools
Torchy's online ordering tool, Sketch, Google Slides
Keep
Clear descriptions of food choices
Ease of choosing menu items
Mostly easy custom options
Group order option and URL to share with group members
Order ahead option
Easy payment options
Simple, straightforward, accessible checkout
Change
Location feature does not allow zip code input or search
 No description of some upgrade options
A few unclear customizing outcomes
Inconvenient list of add-ons
No indication of how to order multiples until the review screen – after the user is finished ordering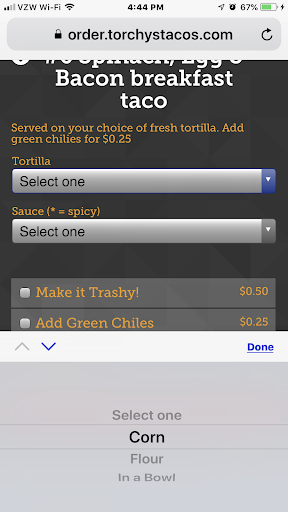 Trigger
Choosing a tortilla or sauce option is simple and intuitive (I'm not a fan of long scrolling menus, but these are manageable).
Friction point
I'm ordering on an app, so chances are, I'll have a delay between when it's ready and when I eat it.
I don't want sauce on my taco until I'm ready to eat it, but the menu gives no indication or choice for ordering the sauce on the side. Hint: It's always on the side, but users don't know that until they're experienced users.
Friction points
Trashy? What's trashy? If I  choose a trashy taco, I don't know what I'm ordering and if I change my mind, I have extra clicks.
Maybe I don't want chorizo today (just kidding – I always want chorizo), but if I change my mind, clicking back goes to the main menu, not to the breakfast menu: extra clicks.